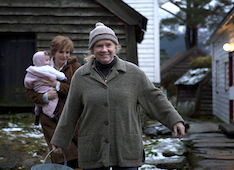 Two Lives / Zwei Leben (Feature Film)
Writer and Director. Starring Juliane Köhler, Liv Ullmann, Ken Duken, Sven Nordin, Julia Bache-Wiig
DOP: Judith Kaufmann. German-Norwegian Co-Production, 100 min, 2012.
TWO LIVES tells the story of Katrine who is living a happy life with her family in Norway and who suddenly is forced to get back into her former life of an east german spy in order to prevent that her secret is revealed. In a combination of thriller and family drama the film tells a story that is based on true events.
CAST
KATRINE EVENSEN MYRDAL
Juliane Köhler
ÅSE EVENSEN
Liv Ullmann
BJARTE MYRDAL
Sven Nordin
ANWALT SVEN SOLBACH
Ken Duken
ANNE MYRDAL
Julia Bache Wiig
HUGO
Rainer Bock
KONTAKTMANN IN NORWEGEN
Thomas Lawinky
KATRINE EVENSEN (jung)
Klara Manzel
KATHRIN LEHNHABER
Vicky Krieps
ANWALT HOGSETH
Dennis Storhoi
HILTRUD SCHLÖMER
Ursula Werner
MARIT
Ellen Birgitte Winther
HAUSMEISTER SONNENWIESE
Ralf Dittrich
ARCHIVAR
Christian Steyer
DETEKTIV
Jürgen Rißmann
REPORTER
Daniel Krauss
DEUTSCHER VERHÖRER
Holger Handke
DÄNISCHER VERHÖRER
Matthias Harrebye Brandt
TURID
Aurora Aloysius Jensen
CREW
REGIE
Georg Maas
DREHBUCH
Georg Maas, Christoph Tölle, Stale Stein Berg, Judith Kaufmann
PRODUKTION
Zinnober Film, Dieter Zeppenfeld
Helgeland Film, Axel Helgeland
B & T Film, Rudi Teichmann
KAMERA
Judith Kaufmann
SCHNITT
Hansjörg Weissbrich
SZENENBILD
Bader El Hindi
KOSTÜMBILD
Ute Paffendorf
MASKENBILD
Susana Sanchez Nunez
TON
Thomas Angell Endresen
SOUND DESIGN
Dirk Jacob
MISCHUNG
Martin Steyer
MUSIK
Christoph M. Kaiser und Julian Maas
Two Lives
Shortlisted Academy Award for Best Foreign Language Film (December 2013)
Best Feature Film (Bronze Lola): German Film Award 2014
Best Feature Film (Golden Beaver): 34th International Film Festival Biberach, Germany (Nov. 2012)
Best Young Director (NDR Award): 24th Int. Film Festival Emden, Germany (July 2013)
Best Screenplay 7th Five Lakes Film Festival, Starnberg, Germany (August 2013)
Best Screenplay The Dublin Film Critics Circle Award 2014 (Jameson Dublin Int. Film Festival)
Best Screenplay (Nomination): Preis der Deutschen Filmkritik, 2014
Best Actrice Juliane Köhler. 18th Festival of Young Directors, St. Jean de Luz, France (Oct. 2013)
Best Actrice (Nomination): Juliane Köhler, German Film Award 2014
Best Editing Hansjörg Weissbrich, German Film Award 2014
Audience Awards
– 24th International Festival of Historic Film, Pessac, France (November 2013)
– 18th Festival of Young Directors, St. Jean de Luz, France (October 2013)
– Audi Festival of German Films (Golden Gnome), Australia, (May 2013)
– Berlin and Beyond Festival, San Francisco, USA (January 2014)
Opening Film
– Festival of German Films, St. Petersburg, Russia (December 2013)
– Audi Festival of German Films in Australia (May 2013)
– International Filmwochenende Würzburg, Germany (March 2013)
– Festival of German Films, Lünen, Germany, (November 2012)
-International Film Festival Bergen, Norway (October 2012)
Closing Film
– Festival of German Films, Paris, (August 2013)
– 18th Stony Brook Filmfestival, New York (July 2013)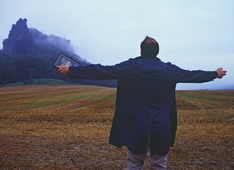 NewFoundLand / NeuFundLand (Feature Film)
Writer and Director. Starring Jochen Nickel, Anna Loos, Axel Prahl, Juliane Köhler
DOP: Sophie Maintigneux. Produced by Zinnober Film, 90 min, 2003.
Some time after the death of his wife, the West German widower Robert travels to the states of the former GDR to install coin-in-the-slot telescopes and to flee the past. In Saxony he gets to know Christiane, who looks surprisingly similar to his deceased wife. Robert is strongly attracted to her, but experiences that he will never be able to get involved with the new without letting go of the old.
Awards
Geneva Grand Prize 2003 for best Screenplay,
Audience Award (Best Film) Würzburg 2003
Nomination
2003 – nominated for Bernhard-Wicki-Preis of Int. Filmfestival Emden-Aurich-Norderney.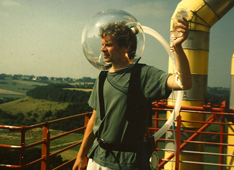 Breathlessnee / Atemnot (Feature Film)
Regie • Buch zusammen mit Thomas von Bennigsen • Spielfilm mit Matthias Haase, Christiana Krüger und Adolf Laimböck
Der Zimmermann Gerd erkrankt an allergischem Asthma. Als er erfährt, dass seine Atemnot durch winzig kleine Spinnentiere im Hausstaub ausgelöst wird, beginnt er, sein idyllisches Landhaus zu einer gigantischen Überlebensmaschine umzubauen…
Redaktion: Eckart Stein und Anne Even / ZDF Das kleine Fernsehspiel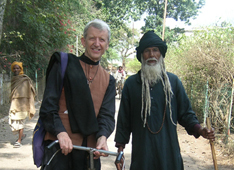 The Buddha Walla (Documentary)
Written and directed by Georg Maas and Dieter Zeppenfeld
DOP: Georg Maas. Produced by Zinnober Film, 90 min, 2010.
A vivid portrait of buddhist meditation teacher Christopher Titmuss. Being from english origin, he lived as a monk in Thailand for many years and leads meditation retreats all over the world. His attitude of buddhism is clear, political, full of humour – and definitely includes social engagement. The film follows him to Israel, Thailand, India, Australia, the US and Germany.
Christopher Titmuss and the teachings of the Buddha
Regie
Georg Maas und Dieter Zeppenfeld
Idee
Kali Franciska von Koch
Dieter Zeppenfeld
Kamera
Georg Maas
zusätzliche Kamera
Dieter Zeppenfeld
Tom Riddle
Damon Zumbroegel
Ton
Dieter Zeppenfeld
Schnitt
Dieter Zeppenfeld
Georg Maas
Markus Belde
Translator in Thailand
Suddhinand Jantakul
Translator in Palestine
Rawda Basir
Musik
Uli Maas
Transscription
Nadamo
Anna Lytton
Fotos
Tom Riddle
Colour correction
Clemens Seiz
Sound design
N.N.
German translation/Subtitles
Anna Lytton
Produzent
Dieter Zeppenfeld
With special thanks to:
Gail Seneca and Hal Nathan
Special thanks also to:
Adam
Ariane Gutmann
Chad Bennet
Dr. Jain's Guest House, Sarnath, India
Ein dor
Foundation for Burma
Haus der Stille, Germany
Itamar Newmann
Kabir Saxena
Karen Bennet
Karin Klinger
Kye Allwood
Le Moulin Meditation Centre, France
Lord Abbot, Thai Monastery, Bodh Gaya
Lord Abbot, Thai Monastery, Sarnath
Lynn Klinger
Meichee Patomwon
Michael Hellback
Nicole Stern
Nshorna Titmuss
Participants of the Dharma Facilitators Programme
Participants of retreats
Paul Koppler
Peggy Titmuss
Pauenhof Buddhist Centre, Dusseldorf, Germany
Pragya Vihar School, India
Radha Nicholson
Rowda Basir
Stephen Fulder
Shelly Sharon
Sister Mary
Sonya Kumar
Spirit Rock Meditation Centre, California
Stacy Zumbroegel
Thai Monastry Bodh Gaya, India
Thai Monastery Sarnath, India
Tineke Osterloh
Tovana, Israel
Venerable Ajahn Po
Waldhaus Buddhist Centre, Germany
Wat Sai Ngam, Thailand
Wat Chai Na, Thailand
Wat Thao Kot, Thailand
Wat Suanmoke, Thailand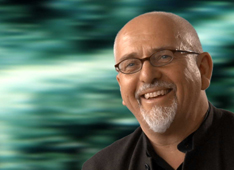 The Real World of Peter Gabriel (Documentary)
Written and directed by Georg Maas and Dieter Zeppenfeld
DOP: Markus Belde. Produced by Zinnober Film, 52 min, 2009.
In the beginning of the 80s, rock star Peter Gabriel composed his first political song "Biko". The film tells the story of the journey Peter Gabriel took from this starting point to his large political and social engagement. Gabriel's work combines philosphy, technology and art. He tries to dissolve the line between "us and them" and to develop a positive vision of "globalisation".
Regie, Buch
Georg Maas und Dieter Zeppenfeld
Kamera
Markus Belde
sowie:
Richard Chappell
John Simpson
York Tillyer
Schnitt
Birgit Köster
Markus Belde
Georg Maas
Ton
Karsten Völz
Mischung
Christof Glade
Aufnahmenleitung
Thomas Král
Produktionsleitung
Milanka Comfort
Produzenten
Astrid Vandekerkhove
Dieter Zeppenfeld
Produktion
Schnittstelle Köln
Zinnober Film Aachen
Redaktion
Sabine Rollberg (WDR/arte)
Musik
Peter Gabriel
Afro Celt Sound System
Dub Colossus In a Town Called Addis
Samuel Yirga
Michael Brook
Dr. Hukwe Zawose
Charles Zawose
Syriana
Nusrat Fateh Ali Khan
Papa Wemba
Terem Quartet
Dengue Fever
The Blind Boys of Alabama
Ayub Ogada
Marie Boine
Francis Bebey
Arona N'Diaye
Guo Yue
Karl Wallinger
The Zawose Family
Master Kong Nay
Ouch Savy
Links
www.petergabriel.com
www.realworldrecords.com
www.witness.org
www.theelders.org
Nominated
Banff World Television Award and Global Television Festival Rose d'Or.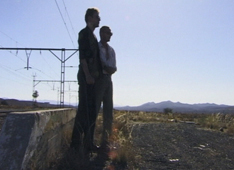 Pathfinders / PfadFinder (Documentary)
Written and directed by Georg Maas.
DOP: Matl Findel and Georg Maas. Produced by Zinnober Film, 100 min, 1998.
What starts off as a trip by two globetrotters in South Africa soon turns into a story of love, death and incredible events."Pathfinders" is a documentary road movie, a vivid journey through distant and inner landscapes: the confrontation of two people, who made their plans during the 70s, with fate. The film was shot in South Africa, Bali, Australia and Germany.
scenario:Thomas v. Bennigsen – Georg Maas
camera: Matl Findel – Georg Maas
editing: Frank Behnke
sound design: Marilyn Janssen – Frank Behnke
mastering and effects: Dorothee Plass
producer: Dieter Zeppenfeld
director: Georg Maas
production company: ZINNOBER Film – und Fernsehproduktion
german and english version available
DVD to buy: http://www.auditorium-netzwerk.de

Escaped / Abgehauen (Documentary)
Written and directed by Georg Maas. Produced by Zinnober Film, 30 min, 1998.
A documentary about 14 year-old kids who ran away from their parents and who live homeless on the streets of Cologne, Germany. They let us know why they left their families and what their persepctives are for the future to come.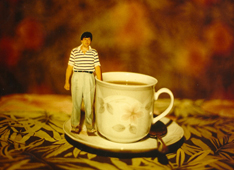 The Other Universe Of Klaus Beyer / Das andere Universum des Klaus Beyer (Documentary)
Written and directed by Georg Maas and Frank Behnke. Produced by Georg Maas, 30 min, 1994.
The first film about the Berlin based underground artist Klaus Beyer. He has been working in a factory since 25 years and throughout time he has been making the most stunning Super 8 Films you can think of. Klaus is making his films all on his own: acting, shooting, editing. He wants to make one film about each song of the Beatles and he performs and sings their songs himself. Art brut at its best.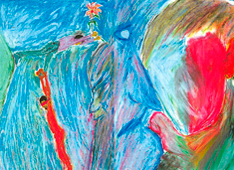 Torture and its Consequences / Über den Abgrund zwischen den Schritten (Documentary)
Writer, Director and Producer, 30 min, 1993.
A film about Torture And It´s Consequences. Three men who survived severe torture in their home countries describe the incredible hell they have gone through. The film then puts his focus on the difficult situation these people face once they manage to escape to Germany. They do not know if they will get asylum or if they will be sent back "home".

What can I do? (Music video)
Writer and Director. Produced by Stephan Guntli, 3 min, 1993
Music – video for the East Berlin rock band "Die Skeptiker". The video is based on the editing techniques of "10 ¾ Inch", but the monophone structure has been opened up towards a polyphone universe of multiple visual layers.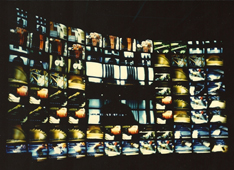 10 ¾ Inch / 10 ¾ Zoll (video-installation)
Writer, Director, DOP, Editor. Produced by DFFB and Delcom, 4 min, 1986.
Video-installation on a video wall of 96 monitors, based on the rhythm of the video "10 ¾ Inch", shown on the Photokina 1986 in cologne, and, on a smaller wall of monitors in Munich in the same year.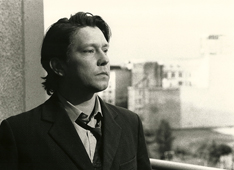 Lead A Normal Life / Ein normales Leben (Short film)
Writer, Director. Produced by DFFB, 14 min, 1987.
Short film about a man (Frank Behnke) who can´t find the way out of his home in the morning. He wants to go to work, but all the doors he opens to get out lead him back inside. He has to come up with a stunning idea to finally leave home, but then things get even worse…
The film is inspired by the song "Lead A Normal Life" by Peter Gabriel.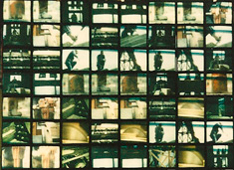 10 ¾ Inch / 10 ¾ Zoll (Short film)
Writer, Director, DOP, Editor. Produced by DFFB, 4 min, 1986.
An experimental video based on pictures and sounds of construction work. Documentary video material (all shot in close up´s) has been organized rhytmically by computers based on a composition made by a musician. Art Brut video music of a day at work. A classic of german video art of the 80s.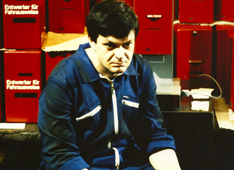 Here Comes The Sun / Die Sonne kommt (Short film)
Writer, Director, DOP, SFX, Editor. Produced by DFFB, 20 min, 1988.
"Here Comes The Sun" is an experimentalfilm about a lonely worker on his way home after work. The film has no dialogue and only shows scenes from daily life, creating a claustrophobic atmosphere with the use of optical effects from the times of silent movies. The film introduces Berlin based underground artist Klaus Beyer in his first leading part in a film that has not been directed by himself.